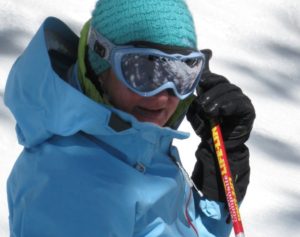 Melissa Malm
Founder & Executive Director 2012
Melissa's skiing obsession began at age eight on the 400 vertical foot slopes of Sterling Forest Ski Area in New York and the icy trails of Highmount Ski Area in the Catskills.
She moved permanently to Jackson in 1975. She interned that winter with Bridger Teton Forest Snow Ranger Gary Poulson and assistant John Simms studying snow and avalanche forecasting.
Initially an unpaid First Aider for the Jackson Hole Ski Patrol in 1976, she became the first woman hired in 1978. In 1987 as First Aid Administrator for the Ski Patrol she coordinated the transition of their first aid training from American Red Cross First Aid to the nationally recognized Outdoor Emergency Care program. She continues her patrol career as an Auxiliary patroller.
She and her husband Greg live south of Wilson. Their nineteen-year-old son Forest is following his own passion for skiing and education in the Wasatch Mountains of Utah.
Creating this scholarship fund honoring fellow ski patrollers who have passed on has fulfilled her dream of recognizing and encouraging spirited local youth to follow their passions and live their dreams.
Chris Peck
Founder & Board Member 2012
Member of the Jackson Hole Ski Patrol since 1993.
Two patrol exchanges overseas;
Tignes, France
Treblecone, New Zealand.
Former jobs held;
Smokejumper
School Teacher
Professional Ski Instructor
Nordic ski coach
Trail worker for the USFS
Carpenter
OEC Instructor
Past and present interests;
Climbing
Hang Gliding
Mountain and Road Biking
Backpacking
Backcountry skiing
Tennis
Dancing
Happily married to Carol Peck, and a father of two daughters;
Marissa Peck, Tufts graduate 2016.
Nicole Peck, Jackson Hole HIgh School Graduate, 2016, will be attending Georgetown University.
If I could rename myself I would choose the name "Snap Boogie":.  You could just call  me "Snap".  Or in a formal situation you could refer to me as "Mr. Boogie".
Words I would like to live by……"It is not how you feel, it is how you make other people feel".
Bob Comey
Secretary & Board Member 2013
Bob Comey moved to Jackson from New England in 1978. He has been a ski patroller at the Jackson Hole Mountain Resort since 1988 and an avalanche forecaster for the resort and the Bridger-Teton National Forest Avalanche Center since 1992. Previously he worked at the resort as a ski instructor, a backcountry guide, an avalanche educator and as a member of the race crew. Bob studied glaciology and glacial geology at the University of Maine at Orono where he received a degree in Geology. Bob has been employed as a consulting environmental geologist for 27 years. He has two college age daughters and enjoys backcountry skiing, road biking, mountain biking and hiking.
Drew Kneeland
 Board Member
Drew lives in Victor, Idaho with his wife Lindsay, and three-year-old daughter, Hadley.
Growing up in Vermont, he migrated west for college, in search of new adventures, taller mountains, and softer snow. Immediately following graduation from Colorado College in 1989, Drew moved to Jackson Hole, and started working winters at the ski area, initially as a ski host, and then as a ski patroller since 1994. Last season was Drew's first as Ski Patrol Director.
His support for the scholarship fund stems from a belief that diversity in experience and education is instrumental in living a fulfilling life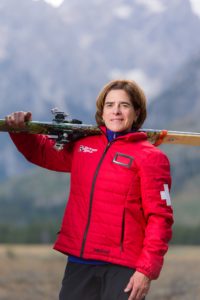 Margo Krisjansons
Board Member 2016
Born: Margo Erjavec, June 30, 1953
I grew up in northern Minnesota on the west shore of Lake Superior. While on vacation with my family to the western mountains, I discovered my passion, unknowingly. On completion of two years in university, I declared to my father, I was going to move to Jackson Hole, Wyoming to ski for one winter season. That one winter turned into a "Way of Life".
I started working for the Jackson Hole Ski Corporation as a ski host in 1974 through 1977. I became involved with the ski patrol starting as a first –aider in 1977-1980. Mentoring with professional patrolmen, I was hired as a full patrol person the season starting 1980-1991.
My years working on the mountain have been a passion with friendships that have lasted a lifetime. We have a special bond, sharing some of the happiest times and some of the saddest. Given that, how could I not become involved in helping with this memorial scholarship fund. Our goal here is to remember our fellow workers, by giving scholarships to the youth of our mountain valleys.
I thank you for your support
As Always,
Margo Krisjansons
Kirby Williams
Founder & Board Member Emeritus 2012
JHSP Memorial Scholarship Fund
ATTN M.Malm
PO Box 661
Wilson, WY 83014
307-733-9078