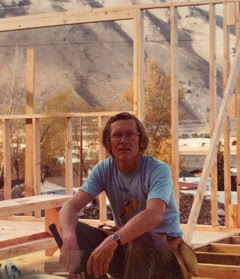 Paul Driscoll
AKA 'Mr. D'
1937-1985
Paul was born in Staten Island, New York on July 28, 1937 to Paul and Marion Driscoll. After graduating from Curtis High School on Staten Island he went on to graduate first in his class from Bonaventure College in Buffalo, New York. He earned the rank of Lieutenant during two years in the army, after which he received a law degree from Notre Dame University. He practiced law in Washington D.C. representing indigent clients for three years before moving to California where he continued his public advocacy work representing migrant farm workers. He moved back to New York in 1970 when his father passed, then when his mother passed the following year he moved to Jackson Hole.
He bought property on Wenzel Lane and though accepted into the Wyoming Bar he never practiced law in Wyoming. Instead he worked at Teton Village Sports, wrote crossword puzzles for the Jackson Hole News and eventually was hired on to the Jackson Hole Ski Patrol.
His love of outdoors kept him climbing mountains, running and especially kayaking. A rapid on Idaho's Bitch Creek bears his name "Driscoll's Drop". He was also a perennial contender in the individual class of the Pole Pedal Paddle and just to make it more 'fun' one year he kayaked the downhill skiing section.
His passion for outdoor adventure was legendary, as was his dry sense of humor, keen intelligence and his love of skiing in every possible form, from Alpine to Nordic to Backcountry. He worked for the Jackson Hole Ski Patrol for four seasons before he was killed at age 48 in an avalanche on Dean's Slide while setting up a sign line before the ski areas scheduled opening. Driscoll Drive ski run is named in his honor.
At the time of his death he was survived by two sisters, Sister Martha Driscoll, a Trappist Nun in Vitorchiano, Italy,  Mary Anne Gomme of Maryland and an Uncle Ed Schrieber of Staten Island.